Details

Created on Saturday, 07 July 2012 19:01
My HATERS have a lot to say about me!
I have won more than a few cases and awards but to be voted the world's number 1 self-hating Jew by this group is an HONOR!
STANLEYCOHEN
Attorney for Hamas Terrorists

"Israel is a terrorist state, Palestinians have no choice but to attack Israelis
by any means necessary. Yes, that includes suicide bombings!"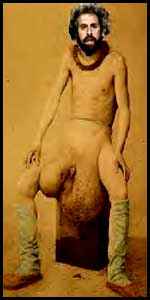 .Stanley Cohen
A Jew with a Nutsack Swollen with Anti-Jewish, Anti-Israel and Anti-American Venom!
Stanley L. ("Louse") Cohen lives alone in his dingy New York City apartment. He'd have a roommate if Satan did not already have his own place!
If, however, he were to take on a roommate, he would pick someone just like Mustafah Abu Marzook... the so-called "head" of the so-called "political wing" of Hamas. In other words, he may plan and direct OTHERS to carry out the ethnic genocide of Israel's Jews, but his "job description" affords him a degree of insulation from the so-called "militant wing" of that very same organization! This would be like Adolph Hitler planning and ordering the murder of millions but claiming innocence since he did not actually DO the murdering! In any case, it doesn't much matter to those unfortunate school kids blow to shreds aboard some Israeli civilian bus!
Footnote: Cohen's own cousin was killed in a bus bombing in Israel. Cohen reported that Mustafa and his wife, Nadia, called to offer condolences. Cohen accepted. End of story. Cohen brushed off the murder and picked up right where he left off ... defending murderers of Jews! All this goes to show that, in Cohen's case, [family] blood is NOT thicker than water!
Marzook was captured in the United States. Israel sought to have this monster extradited to stand trial for his part in planning and encouraging terrorism against the Jewish State. However, Stanley Cohen stepped in and successfully thwarted the carrying out of this extradition request. Ultimately, Cohen was able to get Marzook into Jordan and then on to Syria. The US authorities still have an arrest warrant for him. Stanley Cohen, of course, will do his best to protect his "client."
Go to the WEBSITE to read ALL THE HATE:http://masada2000.org/Cohen.html