How Stanley Cohen Went From Orthodox to Defending bin Laden's Son-In-Law
Details

Created on Monday, 19 May 2014 12:38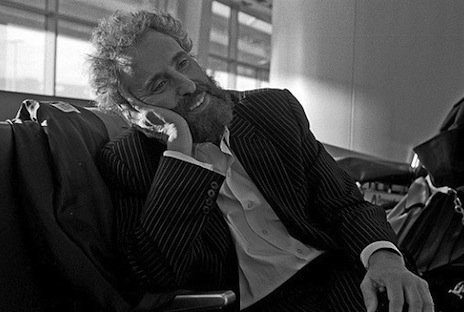 But Even Firebrand Lawyer Is Uncomfortable With This Client
Leaflets handed out near the Manhattan courthouse, where Stanley L. Cohen is defending a relative of Osama bin Laden, describe the Jewish attorney as a "traitor" and an "enemy of Jews, Israel and America." Similar fliers were distributed around his Lower East Side loft. But for Cohen, who has spent much of his career representing terror suspects, threats and abuses are merely an occupational hazard. "These things happen," he said.
And they happen to Cohen more than others.
The trial in New York's Southern District court involves Sulaiman Abu Ghaith, the son-in-law of Osama bin Laden and a spokesman for al Qaeda; he is charged with conspiracy to kill Americans and with providing material support to terrorists. Both sides concluded their arguments yesterday and the jury begins deliberations today.
At the head of the defense team stands Cohen, who after years of defending Muslim terror suspects, feels just as much at home in Beirut and Gaza as he does in New York and who is as comfortable with leaders of Hamas as with the Jewish friends and neighbors he grew up with.
Cohen, 62, with a full graying beard and ruffled hair, is a veteran of courtroom battles for defendants too controversial for others to take on. He won his fame, and some say notoriety, when defending Hamas activist Mousa Abu Marzook and later becoming a close ally of the Palestinian resistance group classified in the United States as a terror organization.
But for Cohen, who has never shied away from controversial cases or from the limelight that follows them, Abu Ghaith's case is a first. Cohen proudly hosts a section devoted to "haters" on his personal website. He admits to feeling less at ease with defending an Al Qaeda activist even though he believes his client is no more than a "deer in the headlights," who happened to be "in the wrong place in the wrong time."
Such ambivalence doesn't entirely square with how Cohen came to represent the close relative of the man who was once America's most wanted terrorist. After Abu Ghaith was extradited to the U.S., he was given a court-appointed attorney, but asked for Cohen, instead.
While it's not unusual for a defendant to switch lawyers, in this case there was an added complication: Cohen is under federal indictment in Syracuse and federal investigation in Manhattan.
Still, Abu Ghaith wanted only him.
How a Jewish boy who grew up in a "fairly Orthodox" household in Westchester County outside New York City came to this courtroom is a story worthy of, well, Stanley Cohen.
Cohen's father was seriously wounded during fighting in World War II, where he also participated in liberating concentration camps. This, Cohen said, was a formative experience for his father and later for himself. "It changed his view of the value of what is important and what is not important in life," he said.
While Cohen's family kept kosher and attended an Orthodox synagogue – where Stanley had a bar mitzvah – he now defines himself as a non-religious spiritual Jew. Stanley's brother, Joseph, took a further step away from his Jewish upbringing and is now a Baptist minister.
Fulfilling the dream of his Jewish parents, Cohen became a lawyer, but from the start it was clear he was not in it for the money or the mainstream recognition. Cohen worked for the Legal Aid Society in New York and later opened his own practice specializing in criminal defense. He increasingly began taking on more political cases, from the Warrior Society of the Mohawk Nation, to the Weather Underground and Muslims on trial after 9/11. His partner in some of these cases was Lynne Stewart, who was later convicted of supporting terrorists by passing on messages from her client, the blind sheik Omar Abdul Rahman, to his followers.
A protégé of activist lawyer William Kunstler, Cohen stressed that he is "not the American Civil Liberties Union," meaning he does not take on cases purely because he believes that every defendant has the right to legal representation. Cohen looks for a "general communality of ground" with his clients. Hamas fits this docket perfectly, whereas other clients, such as Abu Ghaith, are less of a match.
Cohen said that his parents, who have passed away, supported his work on behalf of Palestinian defendants. Both were "disillusioned from what has become of Israel and walked away from Zionism completely, " he said.
Cohen seems to have inherited those views. He has been to Israel numerous times, mostly as an entry port to the West Bank and Gaza, where he meets with friends and clients. Not surprisingly, many of his encounters with Israelis were contentious: Soldiers pointing the barrel of a tank at a taxi driving him in the West Bank, an Israeli security guard arguing with him at a Jerusalem checkpoint, and a vocal confrontation with Shin Bet officers as he was about to leave Ben Gurion airport.
"I can be a handful," he admitted.
During the second intifada, Cohen led a failed legal and legislative drive to stop U.S. foreign aid to Israel, a country he accuses of generating "a view of Jews worldwide that is unhealthy, that is dangerous, that is counterproductive, that creates problems."
His sympathy lay with Hamas, a Palestinian offshoot of the Muslim Brotherhood that now controls the Gaza Strip.
Cohen's path to Hamas came through the defense of Abu Marzook, a senior Hamas leader, who was arrested at an airport in New York and faced extradition to Israel on terrorism charges. He was eventually deported to Jordan and is based today in Cairo. Cohen still considers Abu Marzook a friend, although since the military takeover of Egypt, Cohen has been banned from entry.
Working with Hamas, Cohen said he had never encountered any anti-Semitism or questions regarding his Jewish faith. "There are many Jews that look at me with a raised eyebrow and say 'what the hell is Cohen doing?'" he said. "And there are many Arabs who at first look at Cohen with a raised eyebrow and an air of suspicion 'what is this Jew all about?' So I get it on both sides."
Defending a client charged with being an al Qaeda senior member inevitably generates even more criticism. In recent weeks, Cohen has faced angry 9/11 families sitting in the courtroom, critical conservative media and Jewish activists. Abu Ghaith, a Kuwaiti cleric who is married to bin Laden's daughter, first came to the public eye in two videos filmed in the days after the 9/11 attacks. In the tapes, Abu Ghaith warned of further attacks and praised the suicide bombers who hijacked the airplanes and crashed into the World Trade Center, the Pentagon and a Pennsylvania field, killing nearly 3,000 people. He was arrested in Jordan last year and extradited to the United States.
Abu Ghaith is the first senior al Qaeda activist to stand trial in an American civilian court. In an unusual decision, Cohen called Abu Ghaith to the stand on March 19, thus providing a rare first-hand report of the events taking place in bin Laden's cave in the hours after the September 11 attacks.
Abu Ghaith told the jury he was summoned to bin Laden's cave immediately after the attacks. Bin Laden asked his son-in-law what he thinks America's next step would be. Abu Ghaith said that the United States would not rest until bin Laden is dead and the Taliban in Afghanistan is thrown out of power.
"He admitted to certain things that we all knew the government would seize upon to support its case," Cohen said of his client's testimony, "Abu Ghaith could have just as easily said I don't know or lied, but he didn't."
Cohen almost didn't represent Abu Ghaith. During an initial hearing, Judge Lewis Kaplan informed the defendant that Cohen is under a federal investigation and is facing a federal tax indictment, relating to tax evasion charges and failure to report cash payments he allegedly received. "He may be sent to jail," Kaplan warned Abu Ghaith when discussing Cohen's situation, but the Al Qaeda defendant stuck with his choice of lawyers. Cohen in a statement on his website, called the Internal Revenue Service investigation and indictment an attempt to "wear me down" and to "ultimately silence me."
In his closing argument yesterday, Cohen sought to keep it simple, urging jurors to look at the case in front of them and not at their wish to revenge the 9/11 attacks. "I'm a country lawyer," Cohen said, "and as one federal prosecutor once said to me: 'we know that, the question is which country?'"
Contact Nathan Guttman at This email address is being protected from spambots. You need JavaScript enabled to view it. or on Twitter @nathanguttman